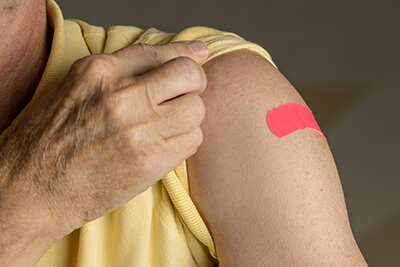 Our physicians and clinical staff provide a wide range of vaccinations as follows:
Influenza (flu shot)
The flu vaccine is the best protection against the flu and protects you for one flu season. Your doctor will offer the Quadrivalent flu vaccines that protect against 4 strains of the flu, A/H3N2, A/H1N1, and 2 strains of influenza B.
Pneumococcal vaccine
The pneumococcal vaccine is to protect against pneumonia. It is given mainly to patients 60 years and older once every 10 years.
Vitamin B12 shot
The vitamin B12 shot is used for treating and preventing vitamin B12 deficiency, a condition in which vitamin B12 levels in the blood are too low.
Depo-Medrol Steroid shot
This shot is used to reduce inflammation, irritation, and pain. It may be used to treat multiple health issues such as skin problems, allergies, asthma and other lung diseases, and arthritis.
Tuberculosis (PPD) shot
Your doctor will perform a purified protein derivative (PPD) skin test to check if patients have been exposed to TB or Tuberculosis.
Request Your Appointment Today!
To request your appointment, please call (630) 893-0347 or contact us online today!
---
Our Location
Center for Adult Healthcare, S.C.
303 East Army Trail Road, Suite 301
Bloomingdale, IL 60108
Phone: (630) 893-0347
Internal medicine and primary care clinic serving patients in Bloomingdale, Medinah, Roselle, Keeneyville, Carol Stream, Glendale Heights, Addison, Itasca, Wood Dale, and the surrounding DuPage County communities.